We are a one-stop Minneapolis and St Paul Celestion Subwoofer Repair shop. If you need Subwoofer Repair or replace a Speaker we can help you. Celestion Subwoofer repair, Stereo, Amplifiers, Karaoke Systems, Receivers, Tape decks and Powered speakers repair. Providing Celestion Subwoofer Repair service to Minnesota and surrounding states since 1977.
Celestion  Subwoofer Repair Service Center.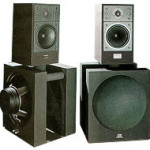 Celestion began life in 1924 as a small company, designing and building loudspeakers. At around this time, the technology of radio was developing. The recently formed British Broadcasting Company – the BBC – had just started to send radio signals. And, as radio receivers improved and there were a greater number of transmissions, purpose-built loudspeakers were needed to improve general intelligibility. At Celestion, we had found the ideal way to market our loudspeakers. Our products were always well ahead of the competition – they not only sounded better, but looked very stylish in their walnut and mahogany cases. From early cumbersome horn speakers developed separate speaker cabinets. With their ornately carved wooden casings, these speakers were given pride of place in every home. Our first loudspeaker, known as the 'Celestion', was launched in 1925, receiving great reviews. To follow this, we developed a complete range of loudspeakers, comprising models A1, A2, A3, A4 and A5. Responsible for the first ever dedicated guitar speaker, Celestion drivers have become the 'voice of rock & roll', delivering many of the most memorable performances by guitarists including Jim Hendrix and Slash through to the current crop of high-octane shredders. Our innovation in LF and compression drivers places Celestion at the heart of the professional sound reinforcement industry, relied upon by many of the world's leading manufacturers to deliver the sound of a great show. http://celestion.com/
We guarantee our COD parts and labor for 90 days. Warranties apply to the original repair only, physical damage, shorted outputs in Stereo, abuse, power surge, lightning, are not covered. Original manufacturer warranty applies.
Celestion Subwoofer Repair Minneapolis St Paul MN
Follow Us.