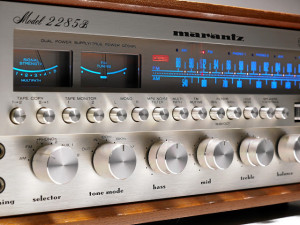 Cleaning of vintage receivers and amps 1970 to 1980. It is not a small and easy job. Even basic cleaning will take you 3-6 hours and most likely will not be done correctly.  If you are  not experienced do not start because it looks easier but becomes complicated very fast.
How to Clean Vintage Stereo Equipment
Before you start cleaning controls and switches turn off the unit and unplug electrical cord!

Warning never ever spray cleaning solution on boards when unit is turned on you will short circuit and have expensive repair bill.

You can do a good job or destroy your receiver or amp very easily and electrocute yourself.

Dust will not affect performance of your receivers or amps and oxidation will. 30-40 year old vintage receiver need extensive DeoxIT D5 cleaning and Deoxit Faderlube for lubrication.
You can cosmetically clean unit using compressor, compressed air, denature alcohol preferably 91 to 99% and q-tips to clean parts and DeoxIT D5 (red )  contact cleaners to clean switches and DeoxIT Faderlube F5 (green) for lubrication
Remove top and bottom put screws in small bags and attach related screws to top and bottom covers so you put back right screws to right places.
You have to remove knobs and front panel for cleaning and create access to controls and switches. Note some knobs secured by screws especially tuning and volume knob you need long a

llen wrench 1.5mm-2.5mm

.
Do not force because you may break control or switch. Inspect cereful and if you see a hole on the side of knob you have a security screw inside.
 Cleaning of Vintage Receivers and what do you need?
Can or 2 of compressed air or Compressor to blow dust.
Small to medium paint brush to clean dust inside you must be very careful not to bend or damage any parts.

Here I am redy for cleaning Pioneer SX-1250 receiver controls and switches.

Note you need A

llen wrench 2mm 

 to remove knobs and front panel to get excess to controls and switches each model deferent so you most likely need remove control panels.
For Controls and Switches you need DeoxIT D5 cleaner and it-is expensive.
For cleaning use CAIG DeoxIT D5S6 DeoxIT Solution Spray, 5% spray 5oz.
For lubrication  use F5S-H6 CAIG DeoxIT Fade lube – 5 oz.
FaderLube is a Cleaner/Lubricant made by Caig specifically for potentiometers, slider or rotary controls.

Note you do not need much and must be sprayed only in controls and switches you spray on top you see small holes and inside of shaft and push in and out.
If volume control sealed soak on top and rotate after. Let seat for couple hours and repeat again repeat 2 to 3 times and let seat over night clean lust time and assemble partially together for test.

Do not spray DeoxIT or any cleaner on boards tuning capacitor or you have problems and smoke!

!

  Repair and Cleaning of Vintage Receivers and Amps  is ours  specialty give us a call we can help!