We are Definitive Technology Subwoofer repair shop. Definitive Technology Subwoofer repair and all major brands of subwoofers and powered speaker repair in Minneapolis and St Paul MN. Alex Audio and Video has been serving Minnesota since 1977. Give us a call. We can fix-it!
Definitive Technology  Subwoofer Repair  Minneapolis/St Paul MN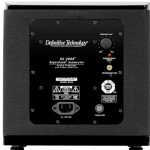 The SuperCube® 2000 is the upgraded successor to the SuperCube III, the most successful subwoofer in Definitive's history. It incorporates a new 7-1/2-inch SuperCube technology woofer pressure-coupled to two 7-1/2-inch ultra low bass radiators. The total piston area is greater than a 12-inch diameter woofer but with far greater speed, musicality and control than a single large-diameter woofer could ever deliver—and it all fits in an impossibly tiny enclosure that is easy to tuck away out of sight. The SuperCube can easily fill all but the largest domestic spaces with loud, visceral, extended, and musical bass yet it occupies less than three-quarters of a square foot of floor space!
Minnesota Definitive Technology  Subwoofer Repair Shop.
Definitive's award-winning range of active subwoofers with built-in high-power amplifiers make a unique combination of delicate musicality and thunderous power for the absolute greatest in bass performance.
 This has long been the most exciting, sought after and rarest of audio achievements, and now it is yours for the asking Since its start, Definitive has won an astounding number of awards and over-the-top enthusiastic reviews from Consumer Electronics industry associations as well as leading audio/video print magazines and websites. Frankly there are too many to list them all here but the photo on this page gets the point across. Most recently a speaker system consisting of Definitive Technology Mythos STS Super Towers, Mythos Nine center and Mythos Gem surrounds was awarded Sound & Vision magazine's "Audio Product of the Year;" not merely "Speaker of the Year" but "Audio Product of the Year." The system also won SoundStage!.com's 2008 Reviewer's Choice Award for Aesthetics and Sound. Home Theater magazine called the STS system "Crisp, Lush, Focused" and tagged it with a coveted Top Pick award. The STS also took home two Innovations Design and Engineering awards at CES 2009, one for High Performance Audio and the other for Home Theater Speakers. One industry award is an honor, five is a sweep. Definitive Technology Mythos XTR-50 / Gem / SuperCube II Home-Theater Speaker System
 Baltimore, MD, January 7, 2013 – Definitive Technology announced today its first Bluetooth speaker system, the "Sound Cylinder," to bring high performance sound to tablets and other portable Bluetooth enabled devices. Sound Cylinder's innovative clip system securely attached the speaker to most tablets and many laptop computers. We are a one stop Definitive Technology subwoofer repair shop.
Definitive Technology  Subwoofer Repair MN, WI, IA, SD, ND
 We guarantee our COD parts and labor for 90 days. Warranties apply to the original repair only, physical damage, shorted outputs in Stereo, abuse, power surge, lightning, are not covered. Original manufacturer warranty applies.
Minneapolis/St Paul Definitive Technology Subwoofer repair shop. Providing Definitive Technology Subwoofer repair and all major brands of Subwoofer. Give us a call. We can fix-it!
Follow Us.