Denon audio repair and vintage stereo receivers repair Minneapolis, St Paul MN. Whether you need a Denon Home Theater receiver repaired or vintage stereo receiver repair we can help you: Denon Audio Repair, Amplifiers, AV receivers and Karaoke Systems. From Home Theater Receivers to Vintage Stereo Receivers we can fix-it! Providing Denon audio repair service to Minnesota and surrounding states since 1977.
Denon Audio Repair MN
Distinguished by its impressive stature and comprehensive features, the Denon IN-Command  AVR-4520CI A/V Receiver is a centerpiece addition to any home theater system and the flagship model in Denon's line of IN- Command A/V Receivers. It delivers 150 watts per channel–more than enough power for the largest of rooms and the most demanding of speakers. With seven HDMI inputs and three HDMI outputs, the receiver lets you enjoy high definition audio and video from a rang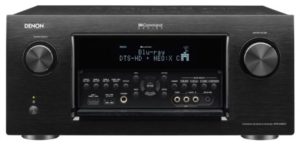 e of devices in multiple rooms. The AVR-4520CI incorporates true multi-zone HDMI audio/video distribution with its HDMI matrix-switching functionality. Sophisticated Video Processing The powerful video processor section features high-resolution upconversion that transforms standard definition (SD) video content to high-definition (HD), and provides upscaling of 1080p HD to 4K Ultra HD (3840×2160 pixels) for compatibility with the latest high-resolution displays, along with 3D pass-through. The InstaPrevue function lets you view multiple windows for all the connected HDMI sources, letting you pick your favorite content at the touch of a button. If you have any problems give us a call we are.
Denon Vintage Stereo Repair
One of the best stereo tuners from the mid 70's. It has a sharp image and even better sound. All functions are selectable with a built-in amp for headphones which is standard for the DENON TU line. Denon TU-500 was one of the best tuners made and works even better today then some modern tuners. If you can get a TU-500, get it.
 Audio  and Stereo Receivers Troubleshooting. 
 If you have HDMI problems bypass audio receiver and connect direct to your television if picture ok you have problems with your receiver. If you have lights on your stereo receiver but no sound check Tape Monitor switch.
 If you are using Master Remote for your Home Theater be sure all units are off before you turn it on.
 Check if Receiver is on right input for audio and video.
 Check if Receiver/Amplifier is set on right speakers output.
 Turn off your Receiver or Amplifier before you start inspecting speaker connections.
 Dress and secure speaker wires on Receiver and Speakers.
 Most damages happen when wires touching each other and will short output transistors.
 When you get stuck, sleep on it. Letting the problem bounce around in your head you may solve the  problem by morning. If all else fails call us. Give  us a call we are Denon audio repair and vintage stereo  repair shop
 We guarantee our COD parts and labor for 90 days.  Warranties apply to the original repair only, physical damage, shorted outputs in Stereo, abuse, power surge, lightning, are not covered. Original manufacturer warranty applies.
Denon Audio Repair Minneapolis St Paul MN
Follow Us.