We are Samsung TV Repair shop, providing Samsung TV Repair, LCD/LED, Plasma TV, DLP TV and DLP Lamps. We can fix it! Samsung Electronics leads the global market in high-tech electronics manufacturing and digital media. DLP projection TVs are what made Samsung famous and the largest manufacturer of Plasma TVs, LCD TV and LED TVs. Providing Samsung TV Repair to the Twin Cities area since 1977. If you're TV under manufacturer warranty contact Samsung to schedule repair.
Samsung TV Repair Minneapolis St Paul
Our goal is to give the best experience we can deliver. So when you are calling us in need of service on your television or lamp please have your service model, serial, MFG date and version before calling us. You can find this information on right side of the TV. Samsung has early mid and late production of same model with totally different boards, lamps and LCD Panels.
UN65JU7100FXZA Slim LED 4K UHD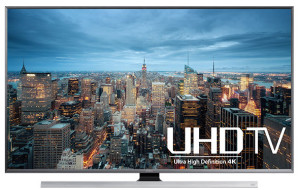 Enjoy incredible picture crispness and detail, no matter how big the screen, with 4X the resolution of full HD.
Precision Black Feel the drama of every entertainment experience with improved black levels and contrast – while bright areas remain bright.
Peak Illuminator Experience all your favorite movies, games and TV shows with improved detail and color with increased LED illumination behind the brightest regions of the picture.
Contrast Enhancer Experience a greater sense of depth with optimized contrast across multiple zones of the screen.
Samsung TV Repair LCD TV, LED TV , Plasma TV
We do not sell cheap lamps we sell original.
Most Samsung DLP models have early and late production and use different lamps.
Samsung lamp code are located on the left back side of televisions on a red sticker and please remember we need service model, serial and version located on right side of TV.
If you have a wrong color picture on your LCD TV check component wire connections on LCD TV and cable box one of the wires is most likely loose.
On DLP TVs if led light flashing on unplug power cord and pull lamp and see if it is broken or bulged.
Reinstall lamp door cover securely or TV will not work without door closed.
Contact us and we will give instructions on removing the lamp cartridge!
We need your original cartridge so we install replacement lamp free of charge into your cartridge.
In Home Service is available to install your Samsung DLP Lamp.
Do you know if a lamp is not broken (shattered glass) we have found after testing the lamp 30% to 40% are good or very good. Bring your DLP Lamp to our New Hope shop and we can test it for you before replacing.
Minnesota Samsung TV Repair Shop.
We guarantee our COD parts and labor for 90 days and DLP Lamps for 6 Months. Warranty covers original service only, physical damage, abuse, power surge, lightning are not covered. Original manufacturer warranty applies.
We offer Samsung TV Repair under extended warranty

Companies such as: AIG, AON, Assurant, Costco, Circuit City, GE Service, Federal Warranty, NEW, National Electronics Warranty (sold at Best Buy, Sam's Club, Wal-Mart, Kmart, Office Max, Target ), Service Net, Ultimate Electronics, Warrantech, Warranty Group, WACA and many more.
Follow Us.