We are a one-stop Minneapolis and St Paul Vizio TV Repair shop. When you need a Vizio TV repair or you need to replace a capacitors on Vizio LCD TV we can help you. LED/LCD TV Repair, Flat Screen TV, Plasma TV Repair. Providing Vizio TV Repair to Twin Cities Metro area since 1977.
Vizio TV Repair Minneapolis St Paul
Recently Vizio put up a special bulletin on its website stating a number of its 2012 60-inchE601i-A3 and 70-inch E701i-A3 HDTVs may lose the picture (but maintain audio) due to a bad "chip assembly". Vizio did not disclose the number of TVs affected. Fortunately, unlike its problem in 2011 when owners reported Vizio HDTVs smoking or catching on fire, this is NOT a safety issue, the affected TVs will simply go black.
Vizio LCD TV Repair MN
Vizio is offering a warranty part replacement on all the units with the bad chip assembly. Vizio will replace a recalled TV that has already lost its picture with a new unit (not a refurbished one as they customarily do) according to its customer service representative. Vizio HDTVs are sold by Amazon, Best Buy, Wal-Mart, Target, Costco, BJs and Sam's Club. All the recall details appear after the break.
Vizio LED TV Repair
Our research indicates the Vizios with the bad chip assembly were made and offered for sale in the 4th quarter of 2012. We checked our local Costco and verified all the E601i-A3and E701i-A3 now being sold are new production, past the serial numbers of the recalled models.
VIZIO toll-free at (855) 472-7450 from 7 a.m. to 7 p.m. CT Monday through Friday, 9 a.m. to 6 p.m. CT Saturday and Sunday. Consumers can also visit the firm's website: http://support.vizio.com/safety-notice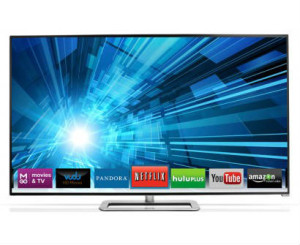 M701D-A3R VIZIO Internet Apps Plus™ Theater 3D®
Razor LED™ with Smart Dimming™
240Hz effective refresh rate with Smooth Motion
Smarter and faster remote control lighted keypad and very helpful at night viewing.
Faster technology support for HTML5 apps brings you faster access.
Built-in ultra-fast 802.11n Wi-Fi connection, without the wires.
New 7-position app launcher & full-screen apps window easier than ever navigating.
Automatic Updates a VIZIO Internet Apps Plus updates your TV automatically.
To get warranty service, contact VIZIO Technical Support via phone at 877 MY VIZIO (877.698.4946) from 7:00AM to 11:00PM Monday through Friday and 10:00AM to 6:00PM Saturday and Sunday, Central Time, or visit www.VIZIO.com. Pre-authorization must be obtained before sending any product to a Vizio service Center. Proof of purchase in the form of a purchase receipt or copy thereof is required to show that a Product is within the warranty period. http://support.vizio.com/
We guarantee our COD parts and labor for 90 days. Warranties apply to the original repair only, physical damage, shorted outputs, abuse, power surge, lightning, are not covered. Original manufacturer warranty applies!
We can fix it! Call us today.
Follow Us.