Vizio TV Repair Minneapolis St Paul MN
We are a one-stop Minneapolis and St Paul Vizio TV Repair shop. When you need a Vizio TV repair or you need to replace a capacitors on Vizio LCD TV we can help you. LED/LCD TV Repair, Flat Screen TV, Plasma TV Repair. Providing Vizio TV Repair to Twin Cities Metro area since 1977.
Backlash Coming? Vizio IPO Not about TVs but Mining Customer Data
In filing for $172.5 million IPO, Vizio (VZIO) discloses plans to mine viewer data to sell to advertisers, warn investors of possible consumer backlash. (Julie Jacobson, CE Pro)
Vizio states:
Our strong brand, technological leadership and go-to-market strategy have driven the broad adoption of our Smart TVs, creating a community of over 8 million VIZIO connected units, or VCUs. A VCU is a Smart TV that has been connected to the Internet and has transmitted data collected by our Inscape data services. Our Inscape data services capture real-time viewing behavior data from our VCUs and enable us to provide it to advertisers and media content providers. The scale of our VCU community, together with our engaged user base and our Inscape data services, position us at the nexus of the connected entertainment ecosystem.
Inscape?!
This little-known Vizio service captures, in real time, up to 100 billion anonymous viewing data points each day from its 8 million+ VCUs, collecting, aggregating and storing data regarding content displayed – including content from cable and satellite providers, streaming devices and gaming consoles.
VIZIO toll-free at (855) 472-7450 from 7 a.m. to 7 p.m. CT Monday through Friday, 9 a.m. to 6 p.m. CT Saturday and Sunday. Consumers can also visit the firm's website: http://support.vizio.com/safety-notice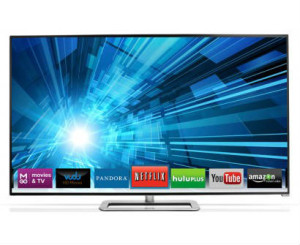 M701D-A3R VIZIO Internet Apps Plus™ Theater 3D®
Razor LED™ with Smart Dimming™
240Hz effective refresh rate with Smooth Motion
Smarter and faster remote control lighted keypad and very helpful at night viewing.
Faster technology support for HTML5 apps brings you faster access.
Built-in ultra-fast 802.11n Wi-Fi connection, without the wires.
New 7-position app launcher & full-screen apps window easier than ever navigating.
Automatic Updates a VIZIO Internet Apps Plus updates your TV automatically.
The company started in 2002 by William Wang, Laynie Newsome and Ken Lowe with $600,000 and three employees. In 2006 the revenue was estimated around $700 million, and in 2007 it was estimated to have exceeded $2 billion. Vizio is known for aggressively pricing their HD TVs against major competitors.
On October 19, 2010, Vizio signed a 4-year contract to sponsor the college football's annual Rose Bowl game in Pasadena, California, beginning with the 2011 Rose Bowl presented by Vizio and ending with the 2014 Vizio BCS National Championship Game.
To get warranty service, contact VIZIO Technical Support via email: TechSupport@VIZIO.com or via phone at 877 MY VIZIO (877.698.4946) from 7:00AM to 11:00PM Monday through Friday and 10:00AM to 6:00PM Saturday and Sunday, Central Time, or visit www.VIZIO.com. Pre-authorization must be obtained before sending any product to a Vizio service Center. Proof of purchase in the form of a purchase receipt or copy thereof is required to show that a Product is within the warranty period. http://support.vizio.com/
We guarantee our COD parts and labor for 90 days. Warranties apply to the original repair only, physical damage, shorted outputs, abuse, power surge, lightning, are not covered. Original manufacturer warranty applies!
We can fix it! Call us today.
Follow Us.