Onkyo Authorized Audio Repair Service Center in Minneapolis St Paul MN. When you are in need of an A/V Receiver repair in warranty or vintage audio repair or have HDMI problems we can help you. Amplifiers, AV Receivers, Vintage Stereo Receivers, Tuners, DVD Players, Subwoofers and Powered Speakers we can fix it!
Onkyo Vintage Audio Repair MN, IA, WI, SD, ND, USA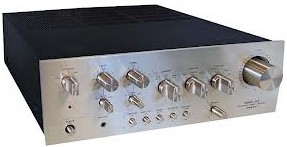 The A-5 is a well designed and well-built mass-production amplifier sound very good when it is in good working order. Give us a call. We can fix it!
45 watts per channel into 8Ω (stereo)
Frequency response: 15Hz to 40 kHz
Total harmonic distortion: 0.08%
Input sensitivity: 2.5mV (MM), 150mV (line)
Signal to noise ratio: 75dB (MM), 90dB (line)
Output: 150mV (line)
Speaker load impedance: 4Ω to 16Ω
Onkyo Audio Repair MN, IA, WI, SD, ND, USA
Beneath the A-5VL is slim and elegant exterior lies a surprising amount of amplification muscle.
Price from $399.00 to $450.00 Onkyo managed to combine a pre and power amp into such a slender integrated package.
The key is the A-5VL is extremely energy-efficient design. Because it produces much less heat than a typical amplifier, the A-5VL requires only a small heat sink.
This leaves ample space for a range of precision-crafted audiophile-grade parts, such as specially audio-tuned capacitors and thick, low-impedance copper bus plates.
The A-5VL employs Onkyo exclusive VLSC technology to make sure a smooth, pulse noise-free signal during conversion from digital to analog. You will enjoy precise and faithful reproduction of any audio source, whether it is a CD, a tuner, or a turntable.
As the A-5VL is also compatible with Onkyo''s optional RI (remote interactive) Docks for the iPod®, you also have the convenience of controlling playback of your iPod via the amplifiers remote controller.
Onkyo  Vintage Stereo Repair MN, WI, IA, SD, ND, USA
We guarantee our COD parts and labor for 90 days. Warranties apply to the original service only, physical damage, shorted outputs in Stereo, abuse, power surge, lightning, are not covered. Original manufacturer warranty applies.
Follow Us.