It seems a number of people are experiencing problems with the HDMI in the new A/V receivers.
If you have experienced any of these issues you may have a bad HDMI board in A/V receiver.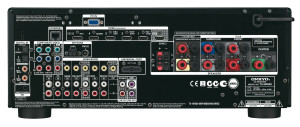 HDMI Stereo troubleshooting tips
What HDMI cable do I need? Obviously not every everyone need 2.0 HDMI cable and 1.4  may work ok. There were numerous changes was made to support for higher frame higher resolution wide aspect ratio and more. Hdmi cable problems symptoms
If works ok it-is most likely the HDMI board bad in your receiver.
Connect HDMI cable directly to TV bypassing the audio receiver and see if it works.
Best Choice use most current version of HDMI cable first install most current version of HDMI cable 2.0 compliant and see if help.
What are the key advanced features enabled by HDMI 2.0b?

Enables transmission of High Dynamic Range (HDR) video
Bandwidth up to 18Gbps
4K@50/60 (2160p), which is 4 times the clarity of 1080p/60 video resolution
Up to 32 audio channels for a multi-dimensional immersive audio experience
Up to 1536kHz audio sample frequency for the highest audio fidelity
Simultaneous delivery of dual video streams to multiple users on the same screen
Simultaneous delivery of multi-stream audio to multiple users (Up to 4)
Support for the wide angle theatrical 21:9 video aspect ratio
Dynamic synchronization of video and audio streams
CEC extensions provide more expanded command and control of consumer electronics devices through a single control point

Home stereo troubleshooting tips

If you have lights on your vintage receiver but no sound check Tape Monitor switch.

If you are using Master Remote for your Home Theater be sure all units are off before you turn it on.
Verify if Receiver is on right input for audio and video.
Verify if Receiver/Amplifier is set on right speakers output and use correct speaker and wires see below.
Turn off your receiver or amplifier before inspecting speaker connections.
Be sure to check speaker wires on receiver and speakers look for damage or loose connections and whiskers.
Make sure that the insulation is adequately stripped on both ends of the wires and they are not touching each other and not damage receiver.
Speaker wire lengths for two conductor copper wire.
Wire size                4 Ω load           8 Ω load
22 AWG                     6 ft                  12 ft
20 AWG                   10 ft                   20 ft
18 AWG                   16 ft                   32 ft
16 AWG                   24 ft                   48 ft
14 AWG                   40 ft                   80 ft
12 AWG                   60 ft                 120 ft
10 AWG                 100 ft                 200 ft
Remember if you using 8 ohm speakers in A and B then it will be 4 ohm. A speaker wire resistance must be less than 5% of the speaker impedance not to have negative effect.