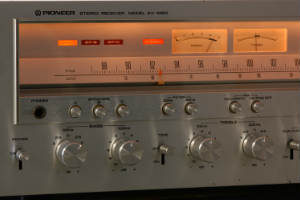 Due to new ownership of Pioneer and not availability Parts, we no longer accept warranty work.
Pioneer audio repair, DJ systems, turntables and vintage stereo repair. Minnesota Pioneer authorized service center. Since 1977 we have been providing pioneer audio repair and vintage stereo receivers repair to MN, WI, IA, SD, ND and throughout USA
Pioneer vintage stereo repair USA
We service and repair all Pioneer receivers and especially these ones. SX-727, SX-828, SX-939, SX-1010, SX-750, SX-850, SX-950, SX-5580, SX-1050, SX-5590, SX-1250 SX-780, SX-1080, SX-1280, SX-1980
Of course best place to find a good receiver is garage sales, thrift stores, estate sales, parents and grandparents.
Furthermore from our experience people who have bought stereo receivers on eBay do not always get a good deal.
Problem when you are buying is you have no idea if it-is in good condition or not.
Important to realize vintage receivers are not sold cheaply and often in bad shape.
Equally important if the unit is somewhat working and not rusted this is a good sign because it may not need major expenses.
Although on the Internet suggests that to have good quality sound from your vintage receiver you must replace "all" capacitors. Not true. "If it is not broke do not fix it".
Hear is the problem many people believe replacing capacitor solve all problems.
In view of most receivers we find most common issues other than capacitors.
We find oxidized controls and switches, noisy transistors, loose and overheated solder connections, bad lamps.
Also dry thermal grease, bad trim pots, fusible resistor changed value, bad ground connections and bad capacitors in power supply.
Need extensive cleaning, adjusting and alignment.
It is obvious each repair is different and depends on condition of unit and complexity of repair
Pro DJ Systems repair MN
The CDJ-2000NXS2 inherits all the best features from its predecessor – the CDJ-2000NXS – and takes a giant leap forward.
We've added a larger, multicolor touch screen with a Qwerty keyboard and search filters to help you select tracks faster.
2 banks of 4 Hot Cues give you more creative freedom, while a 96 kHz/24-bit sound card and support for FLAC/Apple Lossless. Audio (ALAC) means you can play with higher resolution formats.
Furthermore Pioneer releasing a new direct drive turntable to offer a more versatile vinyl solution for DJing and leisurely listening at a competitive price.
Pioneer turntable repair MN
The PLX-500 is ready to use out of the box thanks to its line output.
Thanks to its line output which lets you plug it into your sound system.
Or powered speakers with no need for an external amplifier innovative and high-tech entertainment and electronic products.
Some new Turntables (USB & Analog) include a USB cable and Mac and PC-compatible Audacity software and switchable built-in pre-amplifier with line-level RCA output cables.
Pioneer audio repair USA
We guarantee our COD parts and labor for 90 days.
Warranties apply to the original service only, physical damage, shorted outputs in Stereo, abuse, power surge, lightning, are not covered.
Original manufacturer warranty applies.
Follow Us.